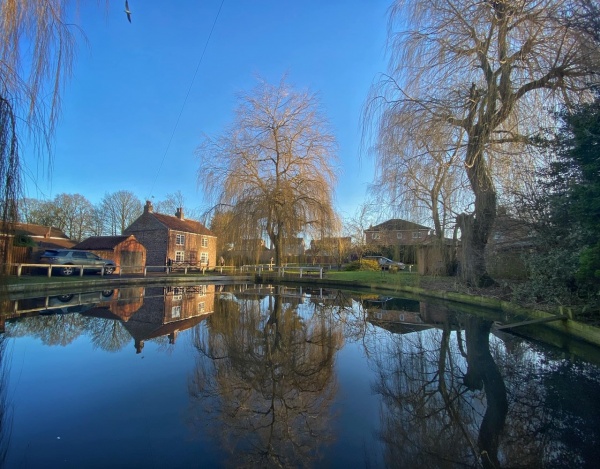 Haxby was named by the Vikings; Haxebi "BY" mean township or farm; therefore Haxby means Hakr's farm. Haxby has its roots in a Viking settlement established in the 9th century which is confirmed by the presence of a Grade III listed Viking cross base in the churchyard of St Mary's Church, and the discovery of a Viking cross shaft in a nearby garden in 1978. There is, however, evidence of earlier occupation by the Romans; the site of a Roman villa on Haxby Moor was discovered in 1966, some Roman pottery has been found on Station Road and a silver Roman signet ring was found in April of 2003.
The town of Haxby is located some four miles due north of York and, in the Middle Ages, was a small township in the Royal Forest of Galtres, where its inhabitants were subject to forest law and took part in the occasional courts that devised and enforced it. When Charles I divested himself of the forest in 1629, Haxby acquired 1,776 acres of land to add to its size, resulting in the parish of some 2,100 acres of today. For many centuries, Haxby was not a separate parish. Initially it was divided between the parishes of Strensall and Driffield but in the 16th century it had its own church built and at some point became a chapelry to the parish of Strensall. In 1862 it became a parish in its own right.
Until 1769, the land was farmed in common by the families of Haxby and comprised five arable fields farmed in strips and an extensive moorland area where those with grazing rights could turn out their livestock. Between 1769 and 1771, the land was enclosed into separate farms, ownership of which passed to individual farmers.
Much of the current town centre is 18th and early 19th century architecture but significant redevelopment took place in Victorian times of which the Memorial Hall (formerly the Board School), the present St Mary's Church and the Methodist Chapel are all important buildings. It was at this time, with the arrival of the railway in Haxby, that the village became a popular place to live and commute from. Growth continued gradually throughout the first half of the 20th century until the population explosion in the 1970s quadrupled the population. In 1976, the local authority took the very important step of designating the centre of Haxby as a conservation area. By 1992 Haxby had outgrown its image of a rural village and was declared a town, by which time its population had grown to be over 10,000. At the same time, a national revision of boundaries moved Haxby from Ryedale District Council to be part of York Unitary Authority and this new authority adopted the boundaries and conditions of the conservation area.